Summer in the Rockies means white capped peaks and lush green trails. And instead of skiers and boarders lined up for the chairlift, mountain bike enthusiasts and hikers head up the mountain.
It's summertime in Colorado, which means mountain biking season is on!
Owners and guests at Timbers Resorts' luxury fractional homes in Aspen, Vail, and Steamboat Springs are at the center of a world of scenery. The mountains are calling, and with a bike you can experience them in a whole new way. You'll whisk along the edges of horse pastures, and dive into the cool and rugged woods surrounding the ski resorts, emerging at the edges of startlingly clear lakes under skies of blue.
Check out these key trails and options for mountain bikers of all stripes. Whether you're a beginner or an expert, your two-wheeled summer journey awaits.
Snowmass and Aspen: Biking Adventures
From your front door at Dancing Bear Aspen or The Timbers Club, the trails are just a ride away including the following routes:
— Rio Grande Trail: Paved bike paths give way to dirt trails, following alongside The Roaring Fork River. A popular stop along the way is the locals' favorite watering hole, The Woody Creek Tavern.
— Brush Creek/Government Trail: A beautiful ride through the stunning aspen groves linking Snowmass's Base Village to downtown Aspen.
While in Snowmass, take the Village Express chairlift that carries you and your bike uphill where a variety of exciting downhill rides await. Two ways to cruise the singletrack back to the base:
— Tom Blake Trail: If cross-country is your style, this undulating trail provides a superb ride on the gentler side though there are a few steep sections as well to provide an adrenaline rush.
— Valhalla Trail: Feel the need for speed? Pick up some velocity on this challenging downhill flow trail. For experts only!
— For those who want to take things a little more slowly, try out one of the two disc golf courses on the mountain - both are challenging and fun in their own rite.
Vail: Tours and Excursions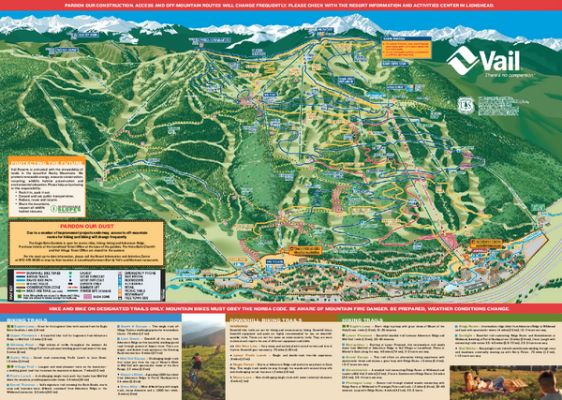 The pine-cloaked mountain awaits with miles of inviting terrain. Take advantage of the reputed and well established network of trails that crisscross Vail Mountain. Just pedal strokes away from the front door of The Sebastian - Vail , consider this trio of options:
— Eagle's Loop: Newcomers to riding in these parts can absorb the vistas along Eagle's Loop, an easy one-mile ride from the drop-off point along the Eagle Bahn Gondola in Lionshead.
— Magic Forest and Mane Lane: Adventurers can point their handlebars at lower altitudes from the steep and challenging summits of Magic Forest and Mane Lane — both can be very tricky with drop-offs and other kinds of heart-pumping terrain.
Steamboat Springs: Bike Town USA
There are more single-track mountain biking trails in Steamboat Springs than anywhere else in the U.S. For Owners and guests at One Steamboat Place, that means plenty of choices for the enthusiast, and easy points of entry for those still new to the sport. Here are three ways to ride:
— Buffalo Pass/Long Lake Loop: A family-friendly 14-mile excursion along the Continental Divide, with lots of waterside stop-offs and easygoing trails.
— Fishhook Lake, Lost Lake and Lake Elmo: Thinking that a little angling might add to the trip? Bring your rod and reel for these trails because Lost Lake and Lake Elmo are renowned for their excellent fishing.
— Nipple Peak Loop: A 30-mile challenge that will test your mountain-biking skills with hills, rocks, trees and a dozen other ways to earn your dinner. Best for experts.
Preferred partners at each of these Timbers Resorts locations offer top-of-the line equipment rentals and safety gear, as well as expert advice, maps and friendly service. Simply contact the concierge at each property for suggestions on where to go for gear so you can get out there and enjoy your ride!
To learn more about Timbers Resorts, please contact us at 800.941.4579 (toll free) or 970.963.4626 (direct) or via email at info@timbersresorts.com.