The Pro Cycling Challenge is ready to roll back into town. From August 22–23, Dancing Bear Aspen celebrates the return of one of the country's premier two-wheeling sports events when Aspen plays host to two stages of the race. The USA Pro Cycling Challenge brings 135 of the world's best riders into one competition, and it boasts what may be the most challenging course ever offered on American soil. Here's how you can enjoy it from the vantage of our luxury vacation homes.
The Race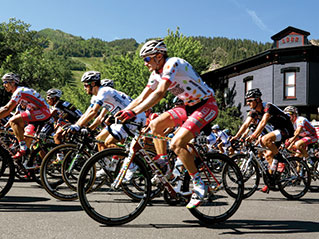 In a seven-day test of skill and pedaling endurance, August 20–26, the participants in the Pro Cycling Challenge tackle nothing less than the Rockies. In its inaugural year, in 2011, almost 1 million spectators watched the drama unfold. This summer promises to be an equally breathtaking 683-mile ride.
Originally envisioned by Colorado governor Bill Ritter and Lance Armstrong, since its start, the race has been a source of Colorado pride.
"The USA Pro Challenge was an event that shined an international spotlight on Colorado," said current Governor John Hickenlooper to race officials. "Any expectations we had for success were surpassed ten-fold.  We want race week each August to be known as a Colorado Cycling Holiday to attract visitors from all over the world and to celebrate Colorado, good health and cycling."
Dancing Bear Aspen and the Pro Cycling Challenge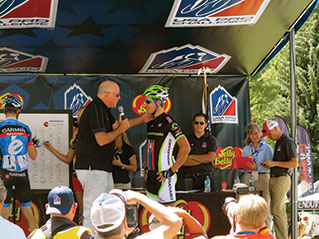 Not only is Dancing Bear Aspen a bronze sponsor of the PCC, our luxury residence property provides a dramatic vantage as the riders pass through Stages 3 and 4.
Aspen is home to what's known as the race's Queen Stage. Cyclists will ascend well outside of most rider's typical altitudinal comfort level, climbing and descending mountain roads at thousands of feet.
It's here you'll find the opportunities to get up close with the action alongside the course that winds through Aspen's downtown It's here at the Stage 3 finish line, and the start of Stage 4, that you'll be able to brush shoulders with the athletes. All the excitement — and elegance — you'd expect while in Aspen, a venerable cycling capitol of Colorado - and at Dancing Bear Aspen, the most luxurious private residence club in town.
Owners at One Steamboat Place and The Sebastian - Vail can also watch the race when it rolls through Colorado by following the 2012 route.
To discover the exquisite lifestyle at Dancing Bear Aspen, visit our site, cycle on over to our Sales Gallery at 411 South Monarch Street in Aspen, or contact us via phone at 970.925.2510 or via email at info@dancingbearaspen.com.