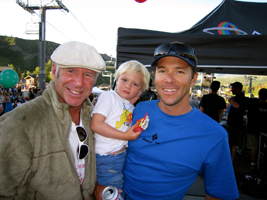 A highlight to summertime in the Rockies is the abundance of outdoor activities and social engagements - many of them free to the public. One such tradition in the Aspen/Snowmass area, home to Timbers Resorts properties
Dancing Bear - Aspen
and
The Timbers Club
, takes place on the slopes of Snowmass. As an Owner in one of these Private Residence Clubs, you're either just a short, chauffeured drive or brisk walk away from the shows that draw families, friends and music enthusiasts of all ages.
Now entering its 21st season, the
Snowmass Free Thursday Concert Series
offers a line-up fit for grown-ups that includes everything from country rock, psychedelic soul, R&B, hip-hop and even that elusive genre of "alternative." The series kicks off June 28 with Boulder band Firefall and concludes Aug. 16 with Chali2na, a Los Angeles-based hip-hop group. Concerts are held weekly from 6:15 - 8:30 pm.
• Firefall, June 28
Formed in 1975 by Flying Burrito Brothers Rick Roberts and Jock Bartley, Boulder-based Firefall struck gold with a number of 1970s hits including "You Are the Woman," "Just Remember I Love You" and "Strange Way." Respected for their energy and spontaneity on-stage, the band has remained together all of these years in part due to their music's integrity.
• Reverend Peyton's Big Damn Band, July 5
Direct from rural Southern Indiana, Reverend Peyton's Big Damn Band features a "fingerpickin', scrubboard scratchin', drum-bucket country blues trio." As its name would suggest, the group features the vocals and guitar style of "Reverend" Josh Peyton, his wife Breezy Peyton (on washboard and vocals) with Aaron Persinger on drums.
• Monophonics, July 12
This band is considered one of California's premier psychedelic soul bands. Raised in the midst of the San Francisco Bay Area's rich musical culture, Monophonics carries on the tradition of music native to their hometown, which flourished during the birth of psychedelia. Monophonics was formed in 2005 and due to a recent staff addition, now has an even more pronounced psychedelic soul and heavy funk sound.
• Quick and Easy Boys, July 19
The pride of Portland, this funky R&B, garage pop band hearkens back to the best of The Police, Minutemen and My Morning Jacket. The Quick & Easy Boys built their fan base in the college town of Eugene, Ore., before heading north to Portland. Expect electrifying stage antics and unique musical moments from guitarist Jimmy Russell, bassist Sean Badders and drummer Michael Goetz that may even inspire the most serious concert listener to get up and dance!
• Pure Prairie League, July 26
One of the pioneering "country rock" bands, Pure Prairie League is best known for its classic "Amie," and the full throttle tune "Two Lane Highway." Or maybe you've heard the ballad "Let Me Love You Tonight." Originally formed in 1969, Pure Prairie League enjoyed a reboot of sorts back in 2000, adding additional depth to the band. But in person, as they demonstrated two seasons ago during a Fanny Hill appearance, PPL performs songs that are true to their original form, rich harmonies and all.
• Honey Island Swamp Band, Aug. 2
This New Orleans roadhouse rock & roll group actually has a San Francisco connection: four of the Louisiana-based musicians hooked up in California while waiting out the Hurricane Katrina devastation. Their music has been described as "Bayou Americana," and it combines guitar, mandolin, four-part vocal harmonies and a stomp rhythm section. Honey Island Swamp Band's first full-length album, "Wishing Well," was awarded OffBeat Magazine's "Best Blues Album" for 2009.
• Van Ghost, Aug. 9 
Direct from Chicago comes this six-piece band that's flavored with pedal steel and psychedelic guitars, a strong rhythm section and "haunting" harmonies. Following their debut album, "Melodies for Lovers," the group headed by Michael Harrison Berg beelined it to Nashville to begin work on their next move. After adding an award-winning producer/engineer/mixer, Van Ghost continues to progress and delight audiences in small clubs and larger venues alike.
• Chali2na, Aug. 16
From his days growing up on the hardscrabble streets of Chicago's South Side to his subsequent explosion onto L.A.'s hip-hop scene to his tenure as MC for seminal group Jurassic 5, Chali fits the part of a 21st century artist. Chali's baritone is distinctive and he has used it at arena shows in Tokyo, at Lollapalooza shows as well as when hawking brands including Coca Cola. He may also be familiar to local audiences as the former frontman for Ozomatli.
For more information on Timbers Resorts' properties and all of the exciting happenings at each location, contact us via email at info@timbersresorts.com or by phone, 888.366.6641.