When you think of America's top chefs, a lot of things might come to mind: Mario Batali's orange Crocs and Thomas Keller's starched kitchen whites. Bechamel and butter. Foie Gras and fondue. Flames and passions and the struggle of trying to get a reservation at Matsuhisa, Cache Cache or one of Aspen's top restaurants at the start of the summer season.
What probably doesn't come up, or at least perhaps not immediately, is physical exercise – much less an early,  winding foot race. But at this year's Food & Wine Classic in Aspen from June 14 - 16, one of the top events will be just that: a brisk5K run, starting at 7 AM, and hosted by celebrity chef Bobby Flay.

What could possibly get America's best and brightest toques out of bed and into their running shoes while many of the Food & Wine Classic's participants are still sleeping off the previous evening's kick-off parties? The short answer is a good cause: Flay's 5K raises money to support Wholesome Wave, a charity that supports small farms and works to bring fresh, locally-grown produce to some of America's lesser fortunate .
It's hard to imagine a charity that would be closer to a chef's heart: in 28 states, Wholesome Wave takes on America's worst food struggles at both ends of the process. On the production side, it partners with some of America's remaining privately-owned farms, helping them find outlets to sell their produce. On the opposite side, it helps bring food to neighborhoods that often don't have access to fresh fruits and vegetables.
But even apart from the good cause, there are few better places to work up an appetite. The 5K begins just a few blocks away from Dancing Bear Aspen - A Timbers Resorts Residence Club. The start/finish is in Rio Grande Park, loops through Aspen's tony West End neighborhood, through the Aspen Meadows Resort and down the Rio Grande Trail back to the park. Along the course, runners will take in views of Aspen's stunning mountains, the breathtaking landscape that served as the inspiration for former local John Denver's "Rocky Mountain High."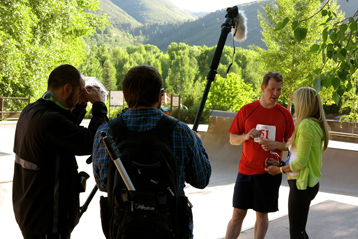 If that's not reason enough for joining in the run, there are the rest of the participants. Last year's 5K featured some of the nation's top foodsmiths, including Chefs Marcus Samuelsson, Richard Blaise and, of course, Flay himself. Top Chef star Spike Mendelsohn tried to make it, but later admitted that he was unable to drag himself out of bed. As for Top Chef star Fabio Viviani, it's hard to say if he actually ran the race: he showed up and traveled the route…in a wagon that was pulled by another runner!
Bobby Flay's 5K will run from 7 a.m. to 10 a.m. on June 14. Early bird registration is $30, and includes an official registration bag and C-9 tee. If you're in the area, come out to support a great cause, meet some of America's best chefs, and work up an appetite for America's premier food festival!
To learn more about ownership opportunities at Dancing Bear Aspen, please contact us at 855.920.2510 (toll free in the US) or 970.920.2510 (direct) or via email at info@dancingbearaspen.com.