The nights are growing longer, and the air is getting cooler. As it happens, the skies will also become even more ideal for stargazing at Dancing Bear Aspen.
Capitalizing on the open-air rooftop setting at Dancing Bear Aspen, we've introduced a special stargazing series for Owners and guests. With our state-of-the-art telescope and resident astronomer, enjoy a lesson in navigating the night sky, viewing constellations, stars and galaxies from the privacy of this special perch.
Owners and guests at this special spot among Timbers Resorts' luxury residence clubs discovered the night sky in some dramatic ways over the summer. In July, the Supermoon stole the show. This winter, we look forward to the December Solstice and more meter showers.
"Imagine the experience of being at 8,000 feet in elevation, on an open-air rooftop lounge in a place that is dark and peaceful," says Virginia McNellis, marketing director for Timbers Resorts' Mountain Collection. "There isn't much light from the town and buildings, so there isn't much competing with the moonlight or view. There is also a new, state-of-the-art telescope on the roof, so anything you can't see with the naked eye can be explored using that."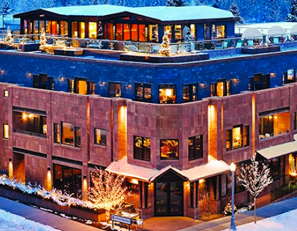 As winter approaches, the air in Aspen changes. According to astronomer Mike Hotka, who spoke to the Denver Post about stargazing last November, the higher frozen-water content in the atmosphere means greater transparency from the ground.
What does that mean and what will you see? Here are some tips for first looks:
Try the Orion nebula, located in the constellation for which it's named.
Look for the Andromeda galaxy, which can be spotted high overhead with a little help from the experts at UCLA.
Search for Saturn and its rings, located right near Venus in the southwestern skies. Here's a quick lesson in how to see them both.
If you'd like a helping hand in all this, a reliable guide is as close as your tablet or smartphone. New apps tie into your mobile device's camera and give you a real time look at the constellations, planets, satellites, and other celestial bodies above.
A superb example is Star Walk for iOS ($2.99 in the iTunes app store), and for Android users you'll go far with Google Sky Map, available at Google Play.
Happy Stargazing!
To learn more about ownership opportunities at Dancing Bear Aspen, please contact us at 855.920.2510 (toll free in the US) or 970.920.2510 (direct) or via email at info@dancingbearaspen.com.