Labor Day Weekend: It's summer's last hurrah, for many, and it's also one of the best reasons to schedule a stay as an Owner at Dancing Bear Aspen's luxury residence homes or at The Timbers Club in Snowmass.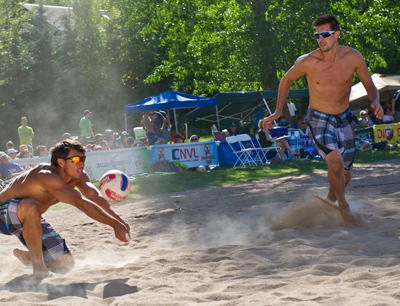 From action at the net to wild times on the stage, all staying at Timbers Resorts' properties in the Roaring Fork Valley are in for an absolute treat this August 30 to September 2. Here's a rundown of what's hot and what's not to miss. 
Motherlode Volleyball Classic
Time was, Labor Day could be a little low-key around Aspen. Then, in 1972, a few of our local business folk put together the first Motherlode Volleyball Classic. Since then, in the span of 40 years, it's become one of the most popular doubles volleyball tournaments of its kind.
As many as 700 teams compete, men and women of all ages, from all over the world, fighting (as good sports) for the tourney's championship titles. Come see the proving ground for future AVP players. Join an after-match party in town, or duck back to Dancing Bear Aspen for a bit of bubbly and a cool dunk in the pool. First serve at the net is on Thursday.
Want to take your own shot at the tourney? Pre-registration takes place through August 20 at the Motherlode website.
Jazz Aspen Snowmass Labor Day Festival 
The tunes kick off on Friday, with nothing less than a full-on set from the Steve Miller Band. As you can tell, already, the Jazz Aspen fest is cut from broader cloth than its namesake. Since 1991, the folks at JAS have been bringing jazz, yes, but also all kinds of related music to these mountains.
This is its 22nd season and it turns Snowmass Town Park into a party for 72 hours. Be sure to catch the following big names:
Friday August 31: Don't miss Steve Miller. Saturday, September 1: Mumford & Sons bring their rootsy, banjo-inflected tunes to Aspen. Sunday September 2: Talk about polar opposites! You get the Southern rap-rock of Kid Rock, but also don't miss the idea-heavy (and sometimes political, but always progressive) world jams of Michael Franti and Spearhead.Enjoy your Labor Day. As always, touch base with your Dancing Bear Aspen concierge with any questions or for help in setting up your weekend. We'll see you in all the action!
For more information about Timbers Resorts, contact us via email at info@timbersresorts.com or by phone, 888.366.6641.