Valentine's Day may be the most romantic day of the year, however there can be a bit of pressure to come up with thoughtful ways to celebrate. Fear not, as we've got you covered with creative ideas. Simply start with a trip to a Timbers Resorts property and then wow your Valentine with one of these romantic gestures.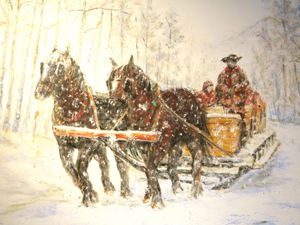 A sleigh ride to Pine Creek Cookhouse
Legendary log cabin restaurant Pine Creek Cookhouse is the perfect setting for a romantic Valentine's Day dinner while staying at Dancing Bear Aspen or The Timbers Club in Steamboat. But make it a night to truly remember by taking a horse-drawn sleigh to the restaurant. Cuddle up together with blankets under the stars and bring a canteen of hot, mulled wine along for the ride.
A hot air balloon ride over wine country
Wake up bright and early at Mayacama in Sonoma and start your Valentine's Day with a private hot air balloon ride for two at sunrise, drifting over the beautiful rolling hills of Northern California Wine Country. Napa's Balloons Above the Valley will serve you pastries and coffee before you take off then serve up a romantic champagne brunch for you when you return.
Couple's spa day
Your one and only is already feeling pampered if you've taken them to Rancho Valencia Spa & Resort in Santa Fe, California, but a trip to the newly renovated spa is pure bliss. In honor of Valentine's Day, go with the "LOVE" package. Begin with a custom-blended essential oil and clay sun bake followed by 30 minutes of soaking in one of Rancho Valencia's outdoor tubs. Finish off with a nice long couples massage.
Candlelight dining on the beach
The views from Esperanza in Cabo San Lucas are so beautiful that you won't want to leave the beach when the sun goes down. So don't! Take a long walk at sunset and return to a private, candlelit dinner with a personalized menu right on the beach.
Picnic in the Italian countryside
Combine Tuscany's three greatest charms – wine, food and scenery – with a Valentine's Day picnic on the grounds of Castello di Casole. Have the concierge arrange to pack you up a special lunch and find a private spot on Castello di Casole's 4200 acres of classic Italian countryside to let the hours pass you by.
Have another romantic idea in mind? Just ask the concierge at any Timbers Resorts property to help out and make it a Valentine's Day to remember.
To learn more about Timbers Resorts, please contact us at 800.941.4579 (toll free) or 970.963.4626 (direct) or via email at info@timbersresorts.com.