They colored them in shades of Starry Night, and they speckled and splattered them in the style of Jackson Pollock. At Dancing Bear Aspen, there's new student-made artwork to be seen.
Mondrian, Keith Haring, and Joan Miró — the pupils at Aspen Community School invoked them all, creating a series of brilliantly hued bears for the paneling surrounding Timbers Resorts' new Mountainside project at Dancing Bear Aspen.
The Story of the Bears: Mountainside Panels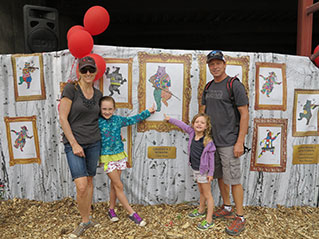 From kindergarten to grade six, some 100 young artists joined Hilary Forsyth, teacher at Aspen Community School, in imagining, crafting, and adding the vibrant collection to the paneling now on display. Supplied with a line drawing of one very happy bear, the students first discussed different ways that color and concept can work with an image.
"We discussed creativity and surface patterns," said Forsyth. "We discussed how artists can change the surface of a bear — by not coloring it just brown — and others will still know it's a bear. The artworks stemming from that discussion are hanging at Dancing Bear."
In addition to the theory behind the art, some classrooms dove into the history of the artists upon whose work they based the colorful bears.
"In grades five and six, students learn about the lives and artwork of 30 great masters in art history," Forsyth said. "Their Dancing Bear drawings had to have been inspired by one of these artists. There are students who referenced Starry Night by Van Gogh, Jackson Pollock splatter paintings, Mondrian minimalist works, Keith Haring, and imaginary works from Joan Miró, to name a few.
"I hope you have a chance to see their artwork," she continued. "Working with Dancing Bear to showcase student artwork in Aspen, in a public setting, is a wonderful opportunity for the students at the Aspen Community School."
Mountainside: The Big Picture (2014–15)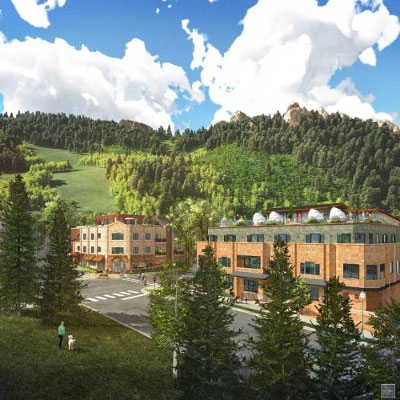 The students' work will remain a part of the site throughout the start and time of Mountainside's construction. For Timbers Resorts, it's another beautiful intersection of community, art, and an ongoing commitment to making our luxury fractional homes a place for both.
Looking ahead, when Mountainside is complete — joining the Parkside building — the new addition will create a whole new way for Aspen-lovers to make a home with us. The coming months will bring new amenities, new neighbors, and the crackle of progress as we approach a completion date in summer 2015.
What follow are some highlights of Mountainside, when complete.
A brand new reception area in the tradition of Dancing Bear's artful and accommodating common spaces.
One penthouse residence (4 bedrooms; 4.5 baths), measuring some 3,900 interior square feet and 2,700 exterior.
10 corner residences (3 bedrooms; 3.5 baths). Average size: 1,814 square feet.
A new spa, featuring a grotto and a steam room.
A new full-service restaurant and bar.
A new ski locker room.
An underground parking garage.
We hope you'll come see the artwork now, and the final product next summer. It's all a part of the evolving face of Dancing Bear Aspen, where our student-made panels are just the beginning of a much anticipated new chapter.
To learn more about ownership opportunities with Dancing Bear Aspen, please contact the sales team at 970.920.2510 or info@dancingbearaspen.com.