Treating your palate to the best wine and cuisine Aspen has to offer during The Food & Wine Classic in Aspen just got even more exciting. During the Classic, Dancing Bear Aspen private residence club will host a special reception featuring wine and five exceptional cheeses curated by cheese expert and James Beard award–winning author Laura Werlin. In anticipation of the event, Werlin spoke with us about selection process. To narrow down the array of choices, she focused primarily on the history of the cheeses, the geographic region they hail from, their ability to pair well with wine, and, of course, their taste.
"I tried to pull cheeses from the West," she told us. "Colorado, the last two are from Utah, and California. There are many other places in just the West alone where I could have gotten cheeses, but I had to stop somewhere!"
Below, she walks us through each extraordinary cheese she selected, detailing both how they taste and why they're unique. The real thrill, though, lies in sampling them for yourself at Dancing Bear in a celebratory atmosphere alongside other luxury vacation home owners. Try each with a few different wines to find your personal favorite pairing, she recommends.
1. Marin French Cheese "Petite Breakfast" - 

Petaluma, California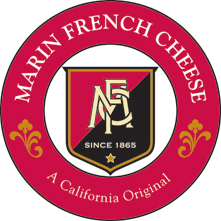 "Petite Breakfast" isn't just a fancy name. This pasteurized cow's milk and cow's cream cheese has serious West Coast history behind it. Made in Marin County, California, it put Marin French Cheese on the map during California's Gold Rush, when the company shipped small cheeses down to dock workers in San Francisco. Workers would eat it instead of eggs, Werlin says. Today, Marin French Cheese is the oldest continuously operated cheese company in the nation, around since 1865. The heritage is rich — and so is the flavor.
"They add a little bit of cream to it to make it just rich enough and creamy in texture, and kind of tangy but also sweet," Werlin says. "It's perfect for breakfast or really anytime."
2. MouCo Cheese Company "Ashley" - 
Fort Collins, Colorado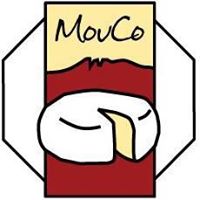 The MouCo Cheese Company in Fort Collins, Colorado, began with an inside joke: "The way [founder] Robert [Poland] explained it to me is they named it because they figured that's how the cow would spell it — m-o-u," Werlin says. The pasteurized cow's milk MouCo cheese that Werlin selected for the event, the Ashley, has a clever twist as well.
"It's got edible vegetable ash on the outside, which doesn't flavor it," Werlin says. "It makes it really pretty, but it does affect how the cheese ages, and it definitely does affect the ultimate flavors in the cheese and makes them, in this case, really delicious."
3. Cypress Grove Chèvre "Midnight Moon" - Holland/Arcata, California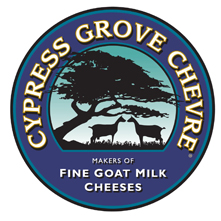 Wrapped in a beautiful deep purple coating, Midnight Moon aged goat's milk gouda is made in Holland for the California-based Cypress Grove Chèvre company.
"It is caramelly, sweet, a little crystally in texture, and a little bit crumbly — and all-around delicious," Werlin says. You may have heard of Cypress Grove before — it makes Humboldt Fog, an iconic American goat cheese named after the fog from California's Humboldt Bay.
4. Beehive Cheese Company "TeaHive" - 
Uintah, Utah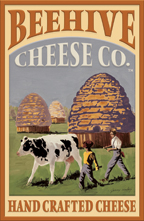 Big red wine fans, make a beeline for the Beehive Cheese Company's TeaHive pasteurized cow's milk cheddar. Its unique flavor is surprisingly wine friendly, Werlin says.
"The TeaHive has actual black tea leaves on the outside. First, though, it's rubbed with bergamot oil, which is the same flavor found in Earl Grey tea. So it's got a little bit of that orange oil kind of flavor." Werlin says. "It sounds like a funny cheese — funny like what it would taste like— but it's really special. It's really subtle, but enough to give it this flavor that you don't know exactly what it is, but you know that you like it."
5. Beehive Cheese Company "Barely Buzzed" - Uintah, Utah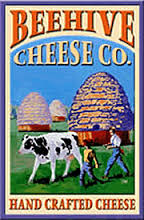 Using the same cheddar that's the base of its TeaHive cheese (above), the Beehive Cheese Company ratchets up the flavor with caffeine to create its Barely Buzzed pasteurized cow's milk cheese.
"It is dusted with espresso, which comes from a Colorado roaster, and just a hint of lavender," Werlin says. "So it's a unique cheese — I don't think there are any other espresso-and-lavender-rubbed cheeses anywhere. You can see the coffee grounds, certainly a generous coating. Both the coffee and the lavender flavor the cheese ever so slightly to make it interesting but, again, not off-putting. It's very compelling, and I have yet to meet anyone who's tasted it and hasn't loved it."
Best of all: These five cheeses are widely available at specialty grocery stores and cheese shops, so if you'd like to do your own tasting later in the comfort of your home, you can. In Aspen, Werlin recommends City Market, Whole Foods, and Roxy's Market as fertile ground for finding the cheeses above and many more quality selections.
To learn more about ownership opportunities at Dancing Bear Aspen and be an Owner with invitations to special events such as this one, please contact us at 855.920.2510 (toll free in the US) or 970.920.2510 (direct) or via email at info@dancingbearaspen.com.