Aspen is ascending art-world walls, with the unveiling this month of the Aspen Art Museum's new facility. Tokyo architect Shigeru Ban, winner of the prestigious Pritzker Architecture Prize earlier this year, designed the new museum building, a minimalist cube encased by a crisp patchwork of plywood strips, and triple-the-size of its predecessor.
The internationally renowned ski town's latest aesthetic enhancement adds an attractive new benefit to Dancing Bear Aspen residence club stays as a modern marvel amid the historic mining era buildings and classic luxury vacation homes common to the landscape.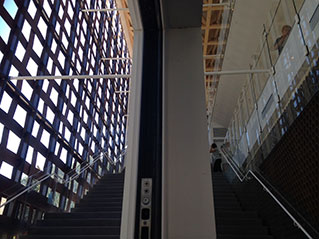 The Grand Staircase, flooded with natural light.
W editor Stefano Tonchi, Tom Ford chairman Domenico De Sole and the head designer himself, and artists Richard Phillips and Marilyn Minter were among 600 attendees who flocked to the 10th annual ArtCrush Gala held on the museum's original grounds the weekend prior to the grand opening. An auction at the event raised $3 million while Ban himself led VIP museum tours of his masterpiece (his first-ever museum project, by the way).
The new AAM opened its doors on August 9 with a 24-hour party for the public with gallery tours, concerts inside and out, a silent disco on the roof, a meditation session and dream analysis, sunrise yoga and more.
A sophisticated wood-and-glass cube, protruding from downtown Aspen's core, the AAM has a mammoth rotating-room glass elevator that immediately lifts visitors to a rooftop sculpture garden, where an entrance foyer awaits and indoor space blurs with outdoor, separated only by sleek glass-sliding doors. The idea is, you pause first, to soak in the stunning panoramic views of Aspen Mountain, then scramble down through the six museum galleries, bathed in natural light beaming through skylights. Ban, the mastermind behind the design, explains that his intention was to create a feeling "like the experience of skiing—you go up to the top of a mountain, enjoy the view, and then slide down."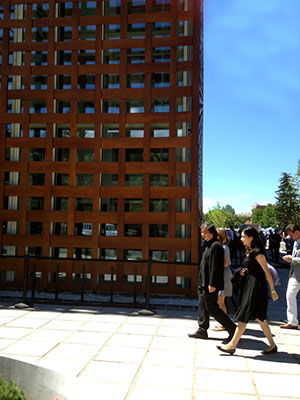 AAM Architect Shigeru Ban arrives at the ribbon cutting ceremony.
Ban's play on natural materials and effects—cool, gray cement floors; soft cardboard tubing; warm, woven wood; stark shade, glowing light—is magnificent and sure to rival the art works displayed within.
Catch-them-when-you-can rotating exhibits will spotlight works by New York-based Cai Guo-Qiang, German-born abstract painter Tomma Abts, installation artist Jim Hodges and German artist Rosemarie Trockel this fall, as well as an exhibit featuring humanitarian architecture works by Ban. Wrangle the kids and make a day of it—just be sure to check with the concierge first about the educational kids and family workshops (as well as Make Your Own Lift Ticket sessions) offered at the museum. Thanks to a lifetime donation from AAM patrons Amy and John Phelan, entrance will always be free of charge. Enjoy!
To learn more about ownership opportunities at Dancing Bear Aspen, please contact us at 855.920.2510 (toll free in the US) or 970.920.2510 (direct) or via email at info@dancingbearaspen.com.