From monumental landscape prints by photographer Peter Lik to the metalwork of acclaimed sculptor Richard Serra to the operatic interpretations created by Nathalie Darbellay, Dancing Bear Aspen showcases the talents of various creative minds whose works grace the walls, credenzas and intimate gathering spaces. As a result, art and architecture magically come together at this unique Private Residence Club in downtown Aspen, Colorado.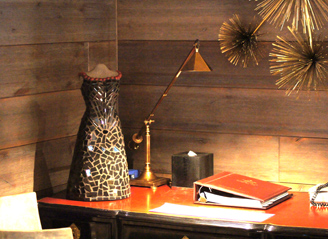 In addition to the aforementioned talents, Dancing Bear Aspen also features works by guest artists on occasion such as Aspen-based Shelly Hamill. As a peek into Hamill's perspective, art has been an important part of her life since she was a child.  Hamill's grandmother is an artist and someone who has been an inspiration. Growing up in Texas, Hamill would keep herself entertained with a canvas or paper and brushes always at the ready.  She often visited the Kimball and the Amon Carter Museums - both great influences and resources upon her.  As a young adult, in her travels as a flight attendant, she visited numerous art institutions around the world, drawing inspiration everywhere she went.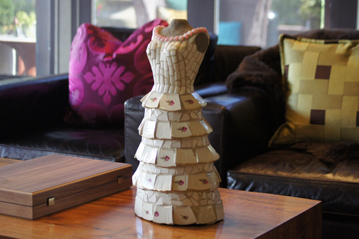 Mosaic has been a wonderful outlet and medium for Hamill who has enjoyed working with many versions of this form and seeing pieces come together to create a whole with texture.  In Hamill's words, "The opportunities and ideas are endless," which translates into a career that will certainly continue to flourish. Hamill currently resides in Aspen with her family and has two pieces on display at Dancing Bear Aspen, shown above and at right.
To follow Hamill on Facebook, visit her page. To discover the artistic lifestyle at Dancing Bear Aspen, visit our site, stop by our Sales Gallery at 411 South Monarch Street in Aspen, or contact us via phone at 970.925.2510 or via email at info@dancingbearaspen.com.